Final Cut Pro X extension installation
Question
How do I install the CatDV extension in Final Cut Pro X on a Mac system?
Answer
Please note – this is for Mac OS only and not for Windows/Linux.
Please navigate to our Downloads page on www.squarebox.com - http://www.squarebox.com/support/download/ and then click on the link for "CatDV Other Products"
Locate the link for "CatDV FCPX Workflow Extension" and either click on the name, or click on the Download button to the right. The current version of the extension is 1.0.1
Please note – the use of this download is available to registered users ONLY – please contact us using the About – Contact page on our website if you would like an evaluation copy.
This will download a .dmg installer file on to your Mac workstation to your specified downloads directory. Once this has downloaded, double click to launch it – and follow this on-screen instructions. Please note – the extension must be installed on all Final Cup Pro X editing stations.
Once this has finished, launch the Final Cut Pro X and then click on the Window menu, then Extensions, and select CatDV

This will then launch the CatDV extension for FCP, and will prompt you to connect to your CatDV server. Please log in using the relevant credentials for your required user. The CatDV server URL will be your web server URL – this can be found on the CatDV Server Control Panel.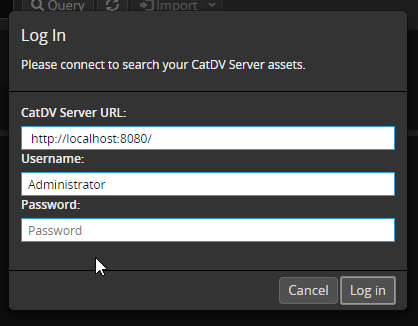 Once your extension is connected to the server you can select the media you wish to use and then use the Import button to work with this media in Final Cut Pro.
We recommend docking the extension in to your workspace so it is always on hand to use within Final Cut Pro.
Last updated – May 2020