MPEG2 Playback Disabled
CatDV Clients
With the introduction of CatDV 11.0.7 there is now a requirement to have a license to playback MPEG2 files within CatDV to conform with the MPEG-2 Patent Portfolio License.
This license is free for customers with an active maintenance contract. You will need to contact us to enable MPEG2 playback. Follow the link that appears or email [email protected] adding 'MPEG 2 license request' to the email header.
We will then provide the code to enable the MPEG2 playback feature.
When you have received your code this needs to be entered into the 'Feature Code' box under the Advanced Functionality section of the desktop client Preferences: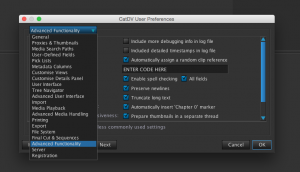 Why do I need this new code ?
It is a requirement that all CatDV workstations that are playing back or encoding MPEG2 are licensed to do so. The registration process allows us to keep a record of customers who are authorized to playback MPEG2 with CatDV.
If you activate MPEG2 license playback without informing us then you will be running an unsupported version of CatDV and may be liable to further action for Infringement of the MPEG-2 Patent Portfolio License.
Last updated – August 2015